Job Advertisement Trend for JobsDB
All Job Advertisement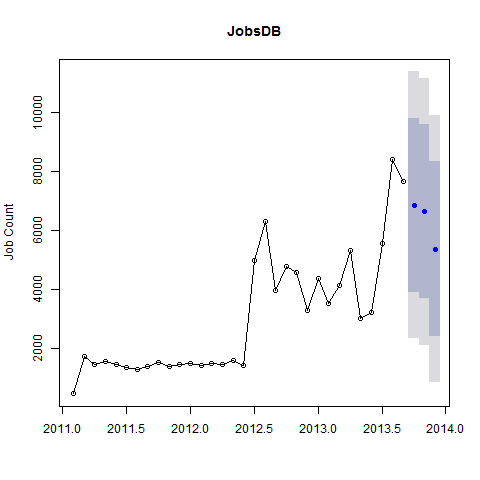 | | Month | JobCount |
| --- | --- | --- |
| 1 | 02/2011 | 463 |
| 2 | 03/2011 | 1711 |
| 3 | 04/2011 | 1450 |
| 4 | 05/2011 | 1542 |
| 5 | 06/2011 | 1450 |
| 6 | 07/2011 | 1349 |
| 7 | 08/2011 | 1298 |
| 8 | 09/2011 | 1387 |
| 9 | 10/2011 | 1539 |
| 10 | 11/2011 | 1397 |
| 11 | 12/2011 | 1469 |
| 12 | 01/2012 | 1491 |
| 13 | 02/2012 | 1404 |
| 14 | 03/2012 | 1496 |
| 15 | 04/2012 | 1467 |
| 16 | 05/2012 | 1576 |
| 17 | 06/2012 | 1434 |
| 18 | 07/2012 | 4970 |
| 19 | 08/2012 | 6313 |
| 20 | 09/2012 | 3962 |
| 21 | 10/2012 | 4791 |
| 22 | 11/2012 | 4573 |
| 23 | 12/2012 | 3302 |
| 24 | 01/2013 | 4378 |
| 25 | 02/2013 | 3540 |
| 26 | 03/2013 | 4127 |
| 27 | 04/2013 | 5329 |
| 28 | 05/2013 | 3022 |
| 29 | 06/2013 | 3213 |
| 30 | 07/2013 | 5566 |
| 31 | 08/2013 | 8428 |
| 32 | 09/2013 | 7664 |
Job Advertisement with Higher Diploma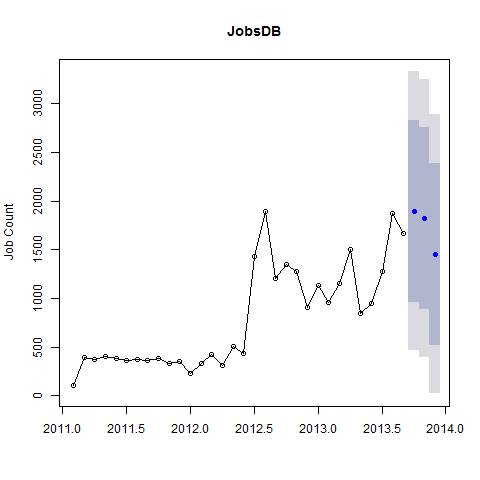 | | Month | JobCount |
| --- | --- | --- |
| 1 | 02/2011 | 101 |
| 2 | 03/2011 | 396 |
| 3 | 04/2011 | 377 |
| 4 | 05/2011 | 404 |
| 5 | 06/2011 | 378 |
| 6 | 07/2011 | 362 |
| 7 | 08/2011 | 377 |
| 8 | 09/2011 | 363 |
| 9 | 10/2011 | 379 |
| 10 | 11/2011 | 335 |
| 11 | 12/2011 | 354 |
| 12 | 01/2012 | 224 |
| 13 | 02/2012 | 332 |
| 14 | 03/2012 | 426 |
| 15 | 04/2012 | 309 |
| 16 | 05/2012 | 508 |
| 17 | 06/2012 | 437 |
| 18 | 07/2012 | 1431 |
| 19 | 08/2012 | 1895 |
| 20 | 09/2012 | 1204 |
| 21 | 10/2012 | 1353 |
| 22 | 11/2012 | 1278 |
| 23 | 12/2012 | 911 |
| 24 | 01/2013 | 1131 |
| 25 | 02/2013 | 960 |
| 26 | 03/2013 | 1150 |
| 27 | 04/2013 | 1507 |
| 28 | 05/2013 | 850 |
| 29 | 06/2013 | 951 |
| 30 | 07/2013 | 1280 |
| 31 | 08/2013 | 1869 |
| 32 | 09/2013 | 1669 |
Remark:
3 months Forecasting by "Fit best ARIMA model to univariate time series (auto.arima)"
---
Created by Mr. Cyrus Wong, Data Scientist.
For update, please join the IVE - Information Technology Facebook page.
For technical explanation, please join the Report Facebook page.
For discussion, please join my facebook group or linkedin me.

Sponsored by:
supported by AWS in Education Grant award